Chinese Premier Li Keqiang (L) visits an administrative service center at the Hubei province's free trade zone (FTZ) in Wuhan, capital of central China's Hubei Province, Dec. 11, 2017. Li made an inspection tour, which ran from Monday to Tuesday in the city of Wuhan, Hubei Province. (Xinhua/Yao Dawei)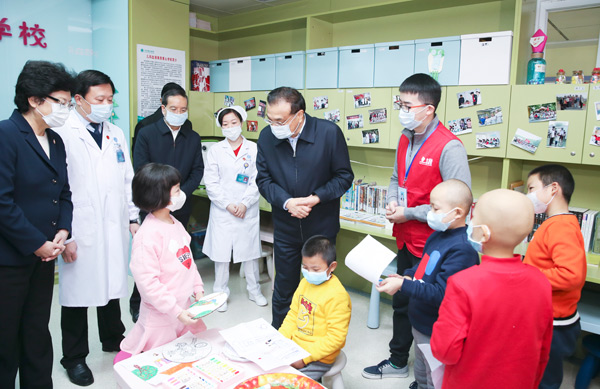 Chinese Premier Li Keqiang visits a hospital in Wuhan, capital of central China's Hubei Province, Dec. 12, 2017. Li made an inspection tour, which ran from Monday to Tuesday in the city of Wuhan, Hubei Province. (Xinhua/Yao Dawei)
Chinese Premier Li Keqiang has called for more reforms and opening-up to transform government functions and energize the market.
He made the remarks during an inspection tour, which ran from Monday to Tuesday in the city of Wuhan, Hubei Province.
Government staff should step up reforms to make administrative procedures easier and create a better business environment by using the Internet, Li said when visiting an administrative service center at the province's free trade zone (FTZ).
Addressing a firm providing multi-language translation services by pooling global talent online, Li said the Internet and big data should be utilized to integrate resources and talent, and develop new business models.
During the tour, the premier also chaired a symposium on the work of the country's FTZs.
Reforms at the FTZs have brought rapid development of new growth momentum in the past few years, he said. The FTZs should try bold moves and take the initiative to make greater breakthroughs in reforms, including the negative list approach.
Talking with store managers and vendors on a shopping street, Li encouraged them to combine online and offline sales to better adapt to market competition and meet the needs of consumers.
During a visit to a hospital, he said greater policy support was needed to remove restraints on medical research funding and medicine approvals.
More work should be done to ensure the long-term, stable supply of much-needed medicines and expand the coverage of insurance to cover serious illnesses, he said.