British Prime Minister Theresa May visits the Wuhan University in Wuhan, central China's Hubei Province, Jan. 31, 2018. (Xinhua/Xiao Yijiu)
British Prime Minister Theresa May arrived in Wuhan, capital city of central China's Hubei Province, on January 31, starting her first visit to China since taking office.
May made a whirlwind visit to Wuhan, the first stop of her official visit to China. During her packed stay here, she visited Wuhan University, the Yellow Crane Tower, watched Peking Opera performance and toured to the Yangtze River side.
Promoting exchanges with China in education and environmental conservation has been among the major highlights of Theresa May's stay in Wuhan. She hoped youth from the two countries will communicate more and cooperate further to build a better future.
Currently, 17 universities of high learning in Hubei have established 27 cooperation programs with 12 British universities.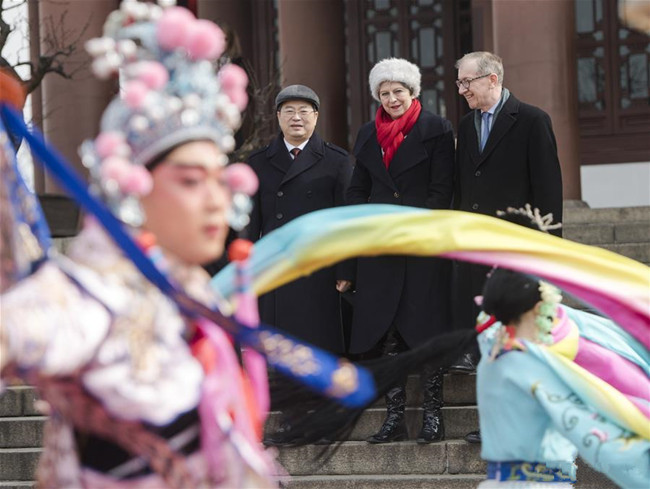 British Prime Minister Theresa May watches Peking Opera performance in front of the Yellow Crane Tower in Wuhan, central China's Hubei Province, Jan. 31, 2018. (Xinhua/Xiao Yijiu)