Wuhan International Conference on Economic & Trade Exchange and Cooperation inaugurated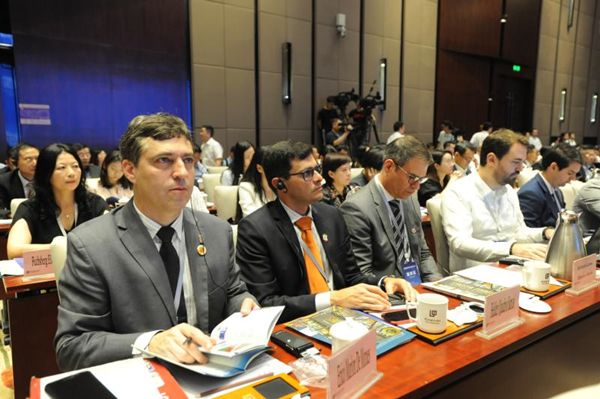 photo source: Changjiang Daily
The Wuhan International Economic & Trade Exchange and Cooperation Conference was inaugurated on May 29, in Hube Province's capitai city Wuhan. More than 400 representatives of the world's top 500 companies, overseas business associations, government agencies from 23 countries and regions as well as Wuhan local enterprises attended the conference to seek cooperation.
Jointly sponsored by Wuhan government and the Investment Promotion Bureau of the Ministry of Commerce, this event is recognized as one of the highest-profile economic and trade activities held in Wuhan in recent years.
Among the participants, 26 are from the world's top 500 companies. In addition to such well-heard companies in Wuhan as BP and Merck & Co Inc, a group of 'new faces' like Tata Group and global software giant SAP have also presented. Representatives of some foreign business associations, government agencies and the world's top 500 companies, will deliver speeches at the conference.
The relevant official in charge introduced that this event included international economic and trade exchanges, international trade cooperation matching, national roadshow of semiconductor project (Wuhan station) and field trips. A number of high-quality foreign-related projects in the fields of foreign investment, foreign trade, foreign economics and international air service will be signed at the conference.
In particular, Brazil organized a large-scale government and business delegation to come to Wuhan to seek trade cooperation. A batch of Brazilian specialties will be introduced at the event; the Russian Export Center and the Russian Railway Logistics Company will cooperate with Wuhan enterprises in depth. Snacks, grain and oil, confectionery food and drinks from Russia are expected to enter the daily life of Wuhan locals.
As introduced, Wuhan's international market is increasingly diversified, with Asia, Europe, North America and other regions as the focus, and maintaining trade in services with countries in Asia, Europe and North America. As of 2018, the number of exporting countries and regions of Wuhan reached 205. (hubei.gov.cn by Ruan Xinqi)