Zhang Qingjie, a Nanyang native and current president of Wuhan University of Technology, was inducted into the Chinese Academy of Sciences (CAS) on Nov 28 along with 60 other elite academics from different fields.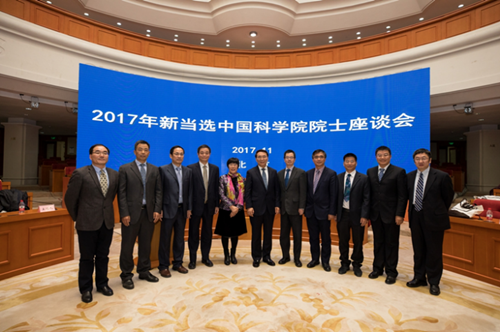 Some of the newly-elected CAS academicians pose for photos. [Photo/cas.cn]
Born in Xixia county in 1958, Zhang graduated from Henan University of Science and Technology with a major in tractor design and manufacturing. He also holds postgraduate and doctoral degrees from Huazhong University of Science and Technology.
Long engaged in inorganic non-metallic and composite materials research, he put forward the concept of magnetic nanocomposite thermoelectric materials and discovered the synergistic effect of heat, electricity and magnetism. The thermoelectric material he invented is used in national defense equipment.
Zhang has not only won the Frontiers of Science and Technology Rustum Roy Award of the American Ceramic Society, but also has many publications in international journals such as Nature and Nature Nanotechnology. The former praised his team for taking a major step forward in advancing thermoelectric research.
CAS is the most prestigious science institution in China. It brings together elite scientists and engineers from all over the world to work on both theoretical and practical problems using world-class scientific and management methods.
As China's highest academic status in science and technology, CAS membership is a lifelong honor. At the same time, members must also shoulder the responsibility of modeling academic integrity and contributing to their fields.