Experts say it provides a key opportunity to cooperate, benefitting French companies
The Belt and Road Initiative is looking to gain traction in France, politicians and experts have said. Proposed by China in 2013, the B&R Initiative aims to build a trade and infrastructure network connecting Asia with Europe and Africa based on ancient land and maritime trade routes.
It comprises the Silk Road Economic Belt and the 21st Century Maritime Silk Road.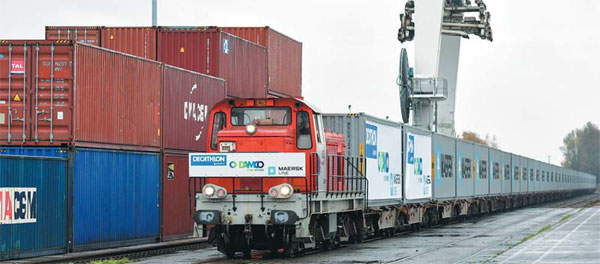 A freight train chartered by Decathlon, a French sports goods retailer, arrives at Dourges, Pas-de-Calais in France from Wuhan, Hubei province, in November. Photos by Chen Yichen / Xinhua
When the French Institute for International and Strategic Affairs opened online accreditations for the first edition of the Paris forum on the initiative in November, there were so many requests that the institute had to close registrations earlier than expected.
This initiative "is an opportunity to work very concretely on projects of common interest", former French prime minister Dominique de Villepin said.
The B&R Initiative has allowed countries to sit down around a table to discuss cooperation, and its multilateral dialogue is a good model for cooperation, especially for today's world, noted Jean-Pierre Raffarin, president of the Prospective and Innovation Foundation.
This initiative is also one of the responses to multilateralism, which "can bring closer Franco-Chinese collaboration", said French Institute for International and Strategic Affairs Director Pascal Boniface.
The initiative benefits more "Made in France" products and French companies, experts said.
One example is the Lyon-Wuhan freight rail line, which was launched in April 2016. Since then, thousands of bottles of Bordeaux wine, auto parts and agricultural products have been exported to China.
Decathlon, one of France's leading sports goods retailers, is developing a direct freight line between Wuhan, Hubei province and its facilities at Dourges, Pas-de-Calais, which is considered "more economical, faster and more ecological".
After passing its first transport test between Wuhan and Dourges in November, Decathlon plans a monthly link from early 2018, with weekly links starting in the first half of 2019.
In addition, communications between Chinese and French communities are becoming increasingly open and transparent, experts said.
During the forum in Paris on the Belt and Road Initiative, there were questions such as: What benefits can this initiative really bring to France?
The answers from experts and entrepreneurs were frank: There are obstacles yet to be overcome and there are also visible benefits ahead.
"The dialogue is sincere and it is very important in France ... this is good progress," said Joel Ruet, a French expert in emerging economies.