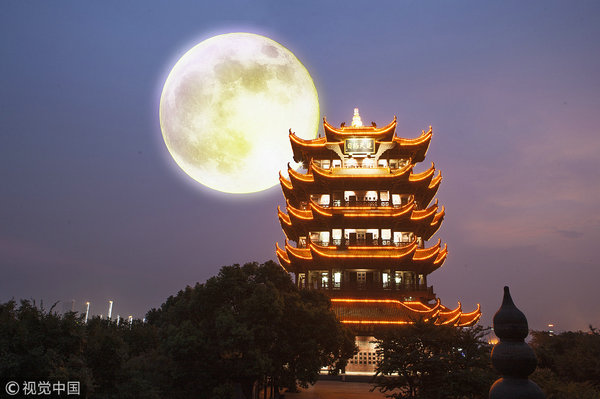 The Yellow Crane Tower, a landmark structure in Wuhan. The city attracts visitors with its time-honored culture and modern elements. [Photo/VCG]
A ship docked in Hubei province's capital transports visitors to the 1920s.
Stepping aboard the Zhiyin at Wuhan's Zhiyinhao wharf is like stepping back in time.
Women wearing traditional hairstyles and qipao (old-fashioned dresses) mingle with men in golden slim-framed glasses. The actors play roles as bar singers, real estate tycoons and reunited lovers.
The Zhiyin has become a popular attraction since it opened in May 2017. It has received over 200,000 visitors so far, more than a third of whom are from outside the city.
The boat is part of Wuhan's Yangtze River culture program that aims to lure visitors with local history and culture.
The city received 257 million visits by domestic travelers last year, a more than 11 percent increase over 2016. It also received 2.5 million visits from overseas travelers in 2017, also a roughly 11 percent year-on-year increase.
Tourism income reached 281 billion yuan ($43.7 billion) in 2017, up by more than 12.26 percent over the year before.
The city has developed a history tour featuring Zhiyin, traditional neighborhoods and boating on Donghu Lake.
"We want to present Wuhan's changes," Wuhan tourism development commission official Yang Xiangwei says.
Travel agencies in Beijing signed deals with Wuhan to develop favorable tourism policies and custom products at a recent tourism promotion event in Beijing.
The city's Jianghan and Zhongshan roads are some of the first national-level history-and-culture neighborhoods designated by the Ministry of Housing and Urban-Rural Development and the former Ministry of Culture in 2015.
Time-honored shops and residences occupy traditional Chinese and Western buildings along the streets.
A greenway network that emanates for more than 100 kilometers from Donghu Lake enables pedestrians and cyclists to enjoy its scenery. Visitors can also boat on the lake.
A lighting belt of over 500 buildings and seven bridges along the Yangtze is scheduled to start operating next year. It will highlight Chinese water culture, ancient Chu culture and modern elements.
Wuhan will also develop products focusing on local culture to target international travelers who use the 72-hour visa-free transit policy.
The city is connected to 22 countries via 56 international flights.
Indeed, Wuhan's history may prove beneficial to its future as its local culture draws more visitors from around the world.