Official App of China's first 5G smart museum launched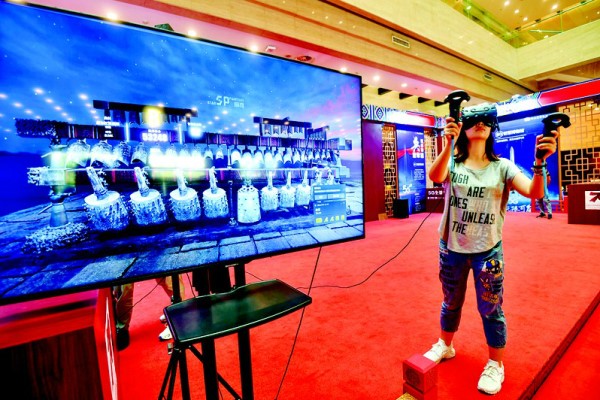 The VR zone in the Hubei Provincial Museum
The official App of China's first 5G smart museum (5G智慧博物馆) was launched on September 5, 2019, in Wuhan, capital of central China's Hubei Province, which was jointly developed by the Hubei Provincial Museum, China Mobile and tech giant Huawei to get close to precious cultural relics.
Among the new services is a virtual reality (VR) zone that allows visitors to strike the Zenghouyi chime bells, a treasure of the museum dating back to the Warring State Period (475-221 BC), in a virtual environment.
Visitors can use own mobile phones to scan over 500 pieces of cultural relics on the App. And a package of 5G-based applications, including video and voice guide services, 3D cultural relics images as well as AR technology, are offered to allow the public to have "unprecedented" interactions with the collections.
"The museum is now covered by the 5G wireless network, which will serve as a "name card of Hubei" to welcome visitors from all over the world during the 7th CISM Military World Games," said Fan Bingheng, general manager of the Hubei Branch of China Mobile.(hubei.gov.cn by Zhang Yawei)