Changjiang New Town wins 2019 Sustainable Cities and Human Settlement Awards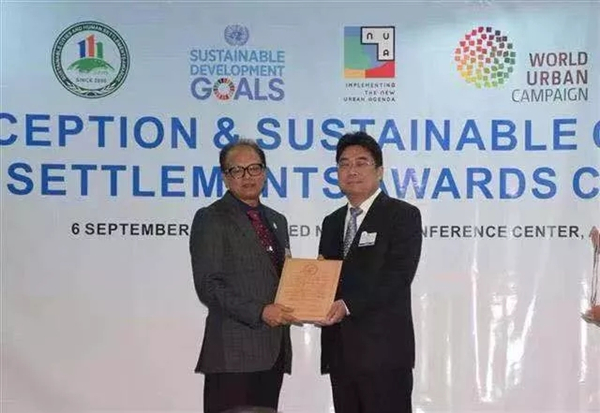 The start-up area's planning of Changjiang New Town, was bestowed the Sustainable Cities And Human Settlements Awards (SCAHSA) at the 14th Global Forum on Human Settlements (GFHS2019) convened at UN Conference Center in Addis Ababa, Ethiopia, on September 6 local time.
The SCAHSA Award is a worldwide prize annually awarded by Global Forum on Human Settlements (GFHS) and supported by renowned international organizations including UN Environment. It has been successfully held for 13 times to date and the awardees come from different parts of the world. Known for its independence, authority and standards, the award is dubbed the "Nobel Prize for the global human settlements".
The design proposal scored high on the concepts of public green space, smart city, zero-waste-to-landfill, inclusive and equitable society. In addition, it performed well in the idea of compact city, three-dimensional and multi-mode network transportation, natural environment restoration and green infrastructure construction as well as utilization of urban three-dimensional space.
Shen Tao, deputy director of the Yangtze River New City management committee, said that the award for Changjiang New Town means a valuable international name card and it will enhance the international reputation of Wuhan and Changjiang New Town.
The start-up area of Changjiang New Town is planned on an area of 50 square kilometers. It is designed to connect downtown, gather high-end innovation elements and guide high-quality development. In November 2017, the start-up area of Changjiang New Town called for worldwide design proposal, and AREP Group finally won the bid. (hubei.gov.cn by Ruan Xinqi)