Wuhan, a force to be reckoned with in international bridge industry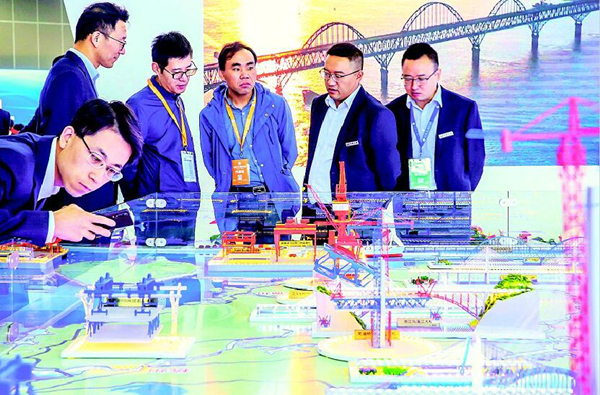 Visitors at the Expo. (photo by Zhang Jing)
2019 China (Wuhan) International Bridge Science & Technology Forum and 2019 China (Wuhan) International Bridge Industry Expo were opened on November 2, in Wuhan, capital city of central China's Hubei Province.
This year's Expo witnessed attendance of more than 10 world's top bridge experts who hail from the U.S., the U.K., Germany, Japan and South Korea. They gathered in the city to explore the development trend of bridge engineering.
Wuhan is the start of bridge construction after the founding of the People's Republic of China. It then provided fertile ground for a batch of engineering institutions, including China Railway Major Bridge Reconnaissance & Design Institute (BRDI), Second Harbor Engineering Company (SHEC), China Railway 11 Bureau Group, CCC Second Highway Engineering Co.,Ltd, China First Metallurgical Group Co.,Ltd, China Railway SIYUAN Survey and Design Group Co., Ltd, Wuchang Shipbuilding Industry Group Co.,Ltd, etc, which has formed into a mighty bridge-construction force.
" During the past three decades, we went all the way to developed countries to learn experience, but now, foreign experts take the initiatives to come to Wuhan to exchange with us, " Xu Gongyi, deputy chief engineer of BRDI and the winner of IBC John A. Roebling Medal, said.
Such a force from Wuhan has contributed to 90 percent of the technological innovation of the bridges in China, and has completed more than 50 percent of bridges across the country during the last decade. It even brings Chinese bridges to the "Belt and Road" countries, helping local economic development.
At present, China's bridges account for more than half of the world's long-span bridges, six of world's top ten cross-sea bridges, seven of the world's top ten cable-stayed bridges, seven of world's top ten arch bridges and five of the world's top ten girder bridges. "These world-class bridges are built with Wuhan efforts, " president of BRDI Liu Ziming said. (hubei.gov.cn by Ruan Xinqi)